Tri Team

Available at our Baton Rouge location.
The Crawfish Tri program is a youth development triathlon team for ages 5 & older. Members will learn the fundamentals of training by focusing on skill development, efficient movement, goal setting, healthy lifestyle habits, endurance and teamwork in a safe training environment.
Our director and coaches are USA Triathlon Level 1 certified and have CPR/Water safety training certifications.

All active Crawfish Aquatics team members (Novice, 8 & Under, Age Group, HS Group, Junior, Senior Division) can participate in the Tri Team program. 5-8 year olds must be bike skills tested at a Saturday morning practice.
Main Competition Season
Monthly Dues: $25
Practices run March-July
3 land work outs per week
Tri Team dues are added to your monthly swim team invoice, posting on the 1st of each month.
Withdrawal Form: any drops from the Tri Team or from both CA Swim Team & Tri Team must be submitted here.
Fall Season
Monthly Dues: $15
Practices run August-September
1 land work out per week
Tri Team dues are added to your monthly swim team invoice, posting on the 1st of each month.
Training is not offered in the months of October to February.
USAS Tri Membership: $15 annually (paid directly to USAS)
Individuals are responsible to purchase this directly through the USAS Tri Website: www.usatriathlon.org
Email a copy of your card once it is received (smart phone picture works great for this!)
There will be additional fees associated with races and we will let you know in advance as soon as they become available.

Enrollment Terms and Requirements

Crawfish Aquatics Team Membership:
Tri Team program is an add-on program for Crawfish Aquatics swim team members and is only offered to current CA members (Novice, 8 & U, Age Group, HS Group, Junior, Senior).
If you are not currently enrolled on the swim team, register online for the swim team group and send notice to the office.br@crawfishaquatics.com email to add on the Tri Team membership.
New swimmers must be evaluated to be placed in the proper swim group. Swim Team Evaluations for ages 4-8 are offered Monday-Thursday at 4:30pm and Monday-Thursday at 5:15pm for ages 9 & Older. Starting placement will be Novice, 8 & U, Age Group or HS Group for majority of new swimmers. Placement in the Junior division is only made by the Developmental Director or Head Age Group Coach. More swim team group & evaluation information.
Individuals that are not able to perform the water skills necessary for a swim team program can enroll in swimming lessons at the Crawfish Swim School and participate in the land-based training sessions while actively enrolled in Lessons Classes.
USA Triathlon Membership:
Team members must complete their annual USA triathlon registration online at www.usatriathlon.org and provide the Crawfish Triathlon Team staff with their membership number. (note: this membership is required for all race entries).
Equipment & Training Gear Info

Training schedule runs March to August each year with 3 land practices per week (some workouts to be done independently based on the time of season).

New members ages 5-8 must attend a Saturday morning practice for bike skills evaluation first prior to joining the Tri Team (to ensure safe training for all of our athletes on the course!).
First Workouts for 2018:
-First afternoon Run/BW strength practice: Wednesday January 10 at 3:45-4:30
-First Velodrome practice: Monday March 12 at 6-7:30
-First BCBS practice: Sunday February 11 at 2-4pm and all Saturday workouts will be on Sunday until March 11
Practice Schedule during Main Competition Season
Monday- 6:00pm at BREC Velodrome (7122 Perkins Road, 70810)
Wednesday- 3:45-4:25 PM at Crawfish Aquatics run (meet by swim hallway/outdoor track runway)
Saturday- 7:00am at Blue Cross Blue Shield0 (5525 Reitz Ave, 70809)

*some Saturday workouts may shift to Sunday dependent on swim meet / race schedules. Members will be notified via email of schedule changes. If you are new to the Tri Team and coming out for a Saturday morning practice/evaluation please email to confirm the Saturday practice schedule for that week.

2018 Crawfish Aquatics Tri Team Race Schedule
Houston Texans 4/21-4/22 Houston, TX Race Info
Typhoon Texas 5/20 Katy, TX Race Info
RK Rookies 6/2 Liberty Lagoon, Baton Rouge, LA Race Info
Jubilee Kids Tri 6/3 Mobile, AL Race Info
Mighty Kids 6/24 Houma, LA Race Info
Rocket Kidz Zachary 7/22 Zachary, LA Race Info
Cypress 7/28 Cypress, TX [Bayou Tri Series] Race Info
USAT Nationals 8/4-5 West Chester, Ohio Race info not yet available

Additional/Post Season Races:
Towne Lake 9/2 Towne Lake, TX [Bayou Tri Series] Race Info
Captain Kids 9/9 Galveston, TX Race Info
Sea Turtle 10/7 Pensacola, FL (unofficial date)
Kemah 10/20 Kemah, TX [Bayou Tri Series] Race Info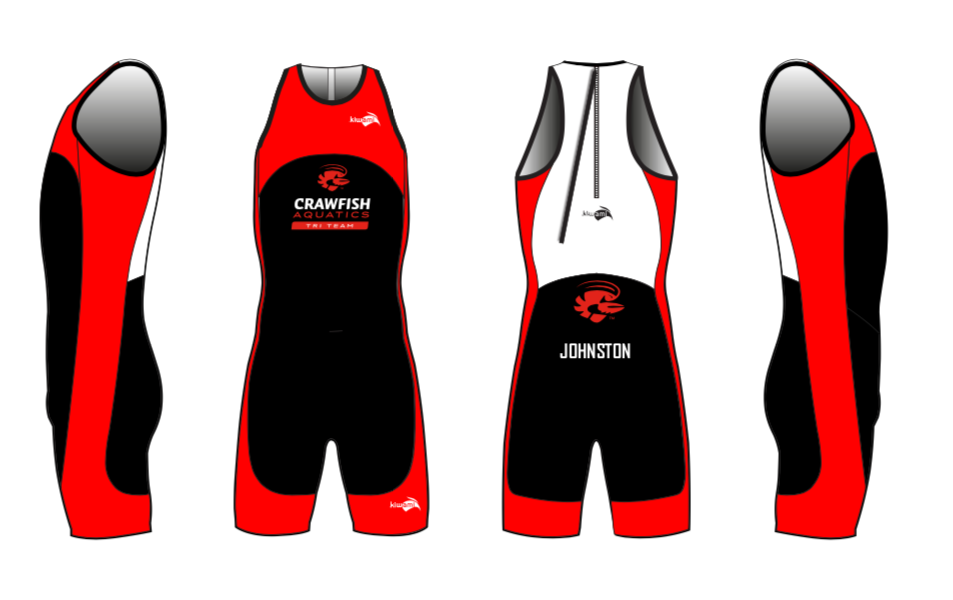 Sign up for our Newsletter