Crawfish December One Day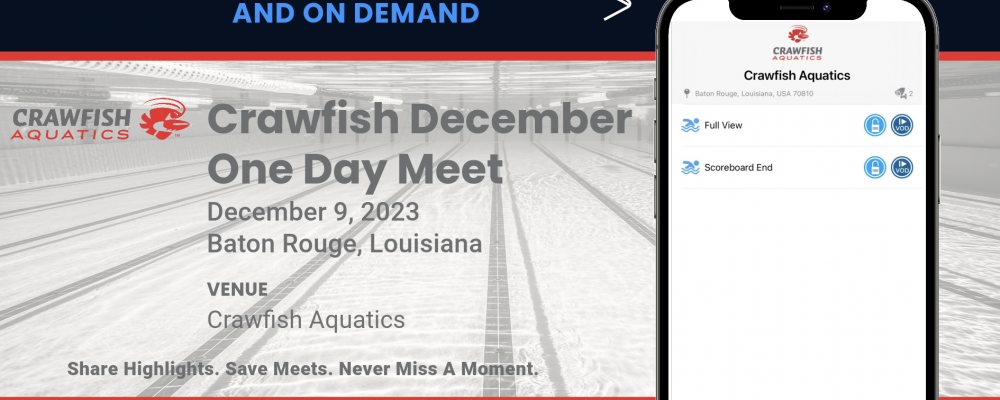 December 9
Officials and Crawfish Volunteer Sign ups
Meet Schedule - confirmed, 12/5/23
Session 1. 14 & Under. Heat Sheet
Warm Up 8:00am. Meet Begins 8:35am.
Session 2. 13 & Older. Heat Sheet
Warm Up 11:30am Meet Begins 12:10pm
Meet Flow:
Seating: Athletes, Bleachers 1-5 / Spectators, outdoor bleachers. Standing viewing is also open all along the garage door side on the Recordboard end.
Athlete Line Up for Races: Athletes will line up for heats in the queuing area in the back hallway behind the scoreboard, at least 4 heats ahead of their race, and will flow to the block area as directed by meet admin.
Meet Fees:
$12 swimmer surcharge and $4 per event (swimmers can swim up to 3 events per day)
USA Swimming Membership is required. Age Group division swimmers that do not have this membership will need to purchase USA Swimming athlete membership by the Monday prior to the meet. Swimmers 12 & Under have the option of a Flex Membership ($40) which will allows for 2 USA Swimming sanctioned meets per calendar yeary. After that, upgrade to the full $90 membership is required to participate in more meets during the calendar year. The only membership option for 13 & older swimmers is the full membership ($90) which is valid Sept 2023 through Dec 2024.
CLICK HERE TO PURCHASE USA SWIMMING MEMBERSHIP THROUGH OUR TEAM UNIQUE URL.
Team Suits, Apparel:
-Team Swim Suits are required for Junior / Senior division. Optional for all other groups. Available for order through our online team store at www.swimoutlet.com/crawfish
-Swim Caps must be the black Crawfish Aquatics swim cap. These are available at the Info Booth (there will be designated purchase days announced ahead of the meet).